While she was a private family chef she discovered the struggles of busy families trying to prepare healthy family dinners in an efficient, practical, easy way that created nourishing meals for the whole family.  She mastered the healthy meal prep solution for very busy people, then began teaching other families.
In this Gutsy Matters Podcast episode Ashley shares her wisdom and her passion for real foods being easy, achievable, stress free and family friendly.
THE KITCHEN IS MEANT TO BE THE HEART OF YOUR HOME - BUT IS IT?
For many, family time in the kitchen has gone from being warm, loving, comforting and nourishing to being stressful, demanding, fast paced, rushed and dominated by guilty emotions about not having time to be prepare healthier meals.  
Ashley reassures us that it's not you; it's that generally we're "not taught how to do food in a way that will literally nurture our health for the rest of our life".  She goes on to say that "in fact we're not even taught basic food skills to get by on a busy schedule".
HEALTHY MEALS FOR THE WHOLE FAMILY WITH LESS EFFORT, SERIOUSLY?
She has given almost a decade of her life to making easy meal prep and healthy meals possible for even the busiest families.  She's adamant that there are certain skills and knowledge that we just don't have that mean we end up doing things the hard way.   Leaving us with the perception that we need to put in a massive amount of effort to achieve healthier eating habits for all family members....and then at best, we might just try a meal plan app!
Meal plan apps can help, but Ashley points out that they're not created by a human being who has to manage grocery shopping, food preparation, leftovers, lunches and fussy eaters!  When you look at it that way, they do seem inadequate don't they!?  
There is no settling for less with Ashley.  Even the recipes she shares on her blog have tips for how to use the extra veggies that won't fit in the pot, the leftovers and even how to be more efficient to get more meals for your time and effort.  This 5 o'clock lasagne recipe is the perfect example of this and she has a freezer meal option for it too.   
As the Kitchen Coach, she has created more than just a list of easy meal prep recipes, she's created a system for regaining confidence and comfort in the kitchen.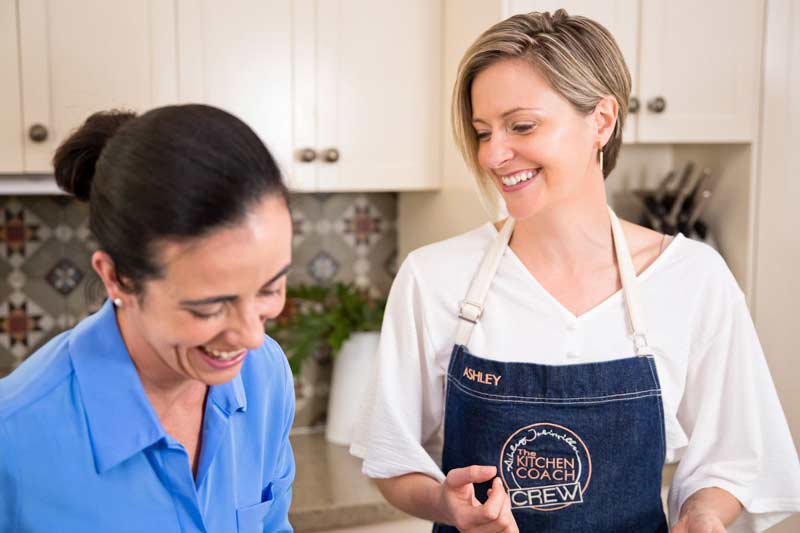 DO I NEED A SLOW COOKER?
The beautiful thing about the way Ashley works is her creativity.  She's not relying on you having a slow cooker, a pressure cooker or a specific type of food processor, just your favourite kitchen tools and you're all set to fall in love with homemade snacks, healthy family meals and stress free kitchen time.
If you're feeling guilt or shame about freezer meals, comfort food or not reaching your desired healthy, whole food lifestyle then you'll find relief in this interview.  Ashley takes the pressure off by explaining what's making it difficult to for you to change and how to begin new eating habits.
Her Kitchen Coach work covers everything from pantry makeover, meal plans, grocery shopping, how to store fresh food (Fresh Produce Enhancer saves the day!), how to prep food, easy recipes... basically the whole process for preparing healthy family meals from a hearty, healthy breakfast to healthy dinner with work lunch and school lunch boxes in between, plus homemade snacks and extra preprepared meals in the freezer for an extra busy day!  Don't feel overwhelmed at the thought of it, Ashley has engineered ease and grace into the process, you'll hear her confidence in the interview.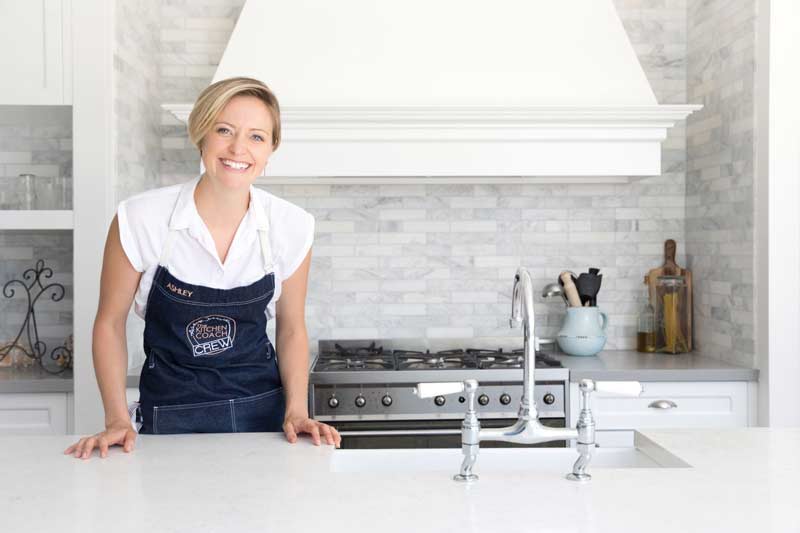 HELP, MY KIDS DON'T LIKE VEGETABLES!
She talks about getting vegetables to be the mainstay in your children's diets, how to get vegetables to taste good and how picky little eaters become pickier by eating fast, convenient and processed foods.  Everything she says makes sense and motivates you towards fresh meals packed full of vegetables!
You can tell she's passionate about reducing stress levels about feeding young families and how to make vegetables the feature of the dish and how to expand the variety of vegetables in a way children really enjoy.  If you've been asking questions like "How to do beginners meal prep for a week", or "what are some relatively easy healthy meals that a busy mother with a full time job can make for her family" or "how to find time to cook for your family", then this podcast is the perfect place for you to meet your new Kitchen Coach - Ashely Jubinville.